With over twenty-five years of guiding experience Webfoot Guide Service will make every effort to make your hunt a success.
After living and guiding in Arkansas for over 15 years and now living Missouri for the last 10 years, we know what good duck hunting is. If you are interested in having a great Duck Hunting Trip, you have come to the right place. With most of our business being repeat customers, we know what it takes to please our clients.
Meet Webfoot Guide Service
Johnny Porter, Owner and Guide of Webfoot Guide Service.
Growing up in Southeast Missouri, Johnny as a kid spent many day listening to mallards in the New Madrid Bottoms. That is how he taught himself how to hunt ducks and blow a duck call. That same passion for hunting ducks as a kid still runs rampant in him today.
Dan Porter, Owner and Guide of Webfoot Guide Service.
Dan's Passion for ducks is just as strong, if not stronger than his father. He still resides in Southeast Missouri, and stays mobile depending on where the ducks are. You won't find a harder working Guide than Dan Porter.
Justin Porter, Public Relations and Guide of Webfoot Guide Service.
Justin was also cut from the same loins for his desire to hunt ducks. He lives in Southwest Missouri, and keeps the website and social media sites up to date. He spends most of his time on the back end, but does find time to help guide, photograph, and film for Webfoot.
Linda Porter, Lodge Owner and Cook of Webfoot Guide Service.
Southern Style Home-Cooked Meals, Well Kept Lodge, and Fabulous Desserts are some of Linda Porter's traits at Webfoot Guide Service. She might not have the desire to shoot ducks, but she makes up for it ten fold as Webfoot Guide Service's Caretaker.
Ty Vegas, Senior Retriever of Webfoot Guide Service.
14 years old and still having the drive of a young pup, Ty will be your best friend while hunting with Webfoot. Dan bought Ty as a puppy and trained him into the Championship Reward winning dog he has become.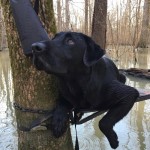 Cash Collector, Retriever of Webfoot Guide Service.
Cash is the newest member to Webfoot Guide Service. Dan recently purchased him to be a follower to his Mentor Ty. He has to big shoes to fill, and we look forward to the retriever he will become.